When it comes to downloading or installing an app, there are a series of factors that could interrupt the process. We've put together a list of some of the most common issues during the installation process:
Not enough free storage space: You need a minimum amount of free space on your Android device before installing anything new. At a minimum, the available space should be twice the size of the file you want to download.

Permissions are not enabled: If you're using our official Android app, you need to allow write permissions. Although this option is usually enabled by default the first time you install it, certain brands or versions of Android may require manual action. To do this, you have to long tap on the Uptodown App Store icon, access the information menu, and look for an option related to the "installation of unknown apps". By default, the Android operating system does not allow the installation of apps outside the official Google store, so this confirmation may be necessary.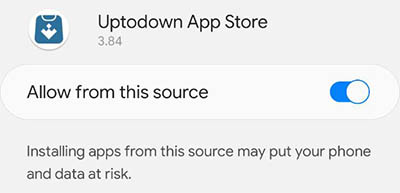 Unsupported architecture: Although most of the apps in our catalog are universal and can be installed on any type of Android device, some of them may only be compatible with specific hardware. Other than being an app that's exclusive for smartwatches or Android TV (and therefore does not work on smartphones), many apps may require that the device's CPU be compatible with the ARM64 architecture. Although most current devices are, it is recommended that you consult the technical specifications of the device to confirm.

It's an XAPK file: Although APK is the most widespread packaging format for Android apps, we distribute many of them in XAPK, a container format that isn't compatible with the package installer included by default on Android. Our official Android app allows you to install them easily. We recommend consulting the guide How to install an XAPK file.

Insufficient Android version: Although Uptodown doesn't restrict downloading in any way, certain apps have minimum recommended requirements that, if not met, could lead to errors in both the installation and the game itself. Please check these requirements in the technical information table provided on the download page for each app.

Unstable connection: If the download is performed over unstable mobile connections or weak WiFi networks, the file download may stop without being completed. In this case, the resulting downloaded file may be incomplete and therefore impossible to install. Please check that the size of the downloaded file matches the size specified on the Uptodown download page. If not, please restart the installation.

Incompatibility with certain manufacturers: Some devices that use the MIUI customization layer (Xiaomi, Mi, Redmi, etc.) can cause problems when installing apps from unknown sources. There is a way to avoid it described in the section How to avoid errors when installing apps from Uptodown on Xiaomi devices

Uptodown error: Although we perform as many tests as we can, it is possible that our servers could run into issues for short periods of time. If the problem persists after a few hours, please contact our support team and we will try to solve it as soon as possible.