Uptodown offers a huge catalog of Android apps packaged in APK format. To install an app like this, all you have to do is download the file and let the package installer included in the Android operating system process it.
Option A - From the browser
Go to Uptodown.com and download the app you want right from the browser, preferably to the Downloads folder on your phone. To start the download, you have to access the app's info page and tap on the blue Latest Version button.

On the next page, tap the green Download button to start the download process.

Important: If the following button appears next to the Download button, you must use our official app or a compatible package installer (Option B). We recommend consulting the How to install an XAPK file guide for more information.

When the process is finished, you have to tap on the notification icon or look for the APK in the folder where downloads are stored on the device. When you tap on it, you may receive a message like the one shown below in which the system informs you that the file "can harm your device". This is a message that the Android operating system always displays by default when downloading apps outside the official Google store, not a warning related to the file itself. For more information about our commitment to security, check the section Is Uptodown safe?
After tapping the Accept button, you'll be asked if you want to start the download process. Tap the Install option.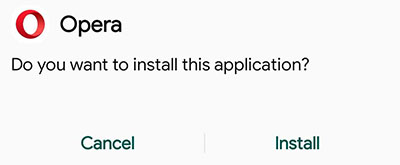 Once installed, you'll be able to run the app. If you've received an error message, please take a look at the section: I got an error while downloading or installing an app.
Option B - Using our official app
Access our official Android app Uptodown App Store and go to the download page of the desired app. Tap on the Download button.

A progress bar will show the status of the download process. You can also check the download status from the device's notification bar if the official app is minimized. Note: if you shut down the app completely, the download process will stop.

At the end of the progress, the download bar will turn into a blue button with the word Install. It can also be started from the Downloaded section of the left drop-down menu if you select the desired APK from the list.